Morningside Crossing Groundbreaking Ceremony
Old Morningside Public School to become housing for seniors by next August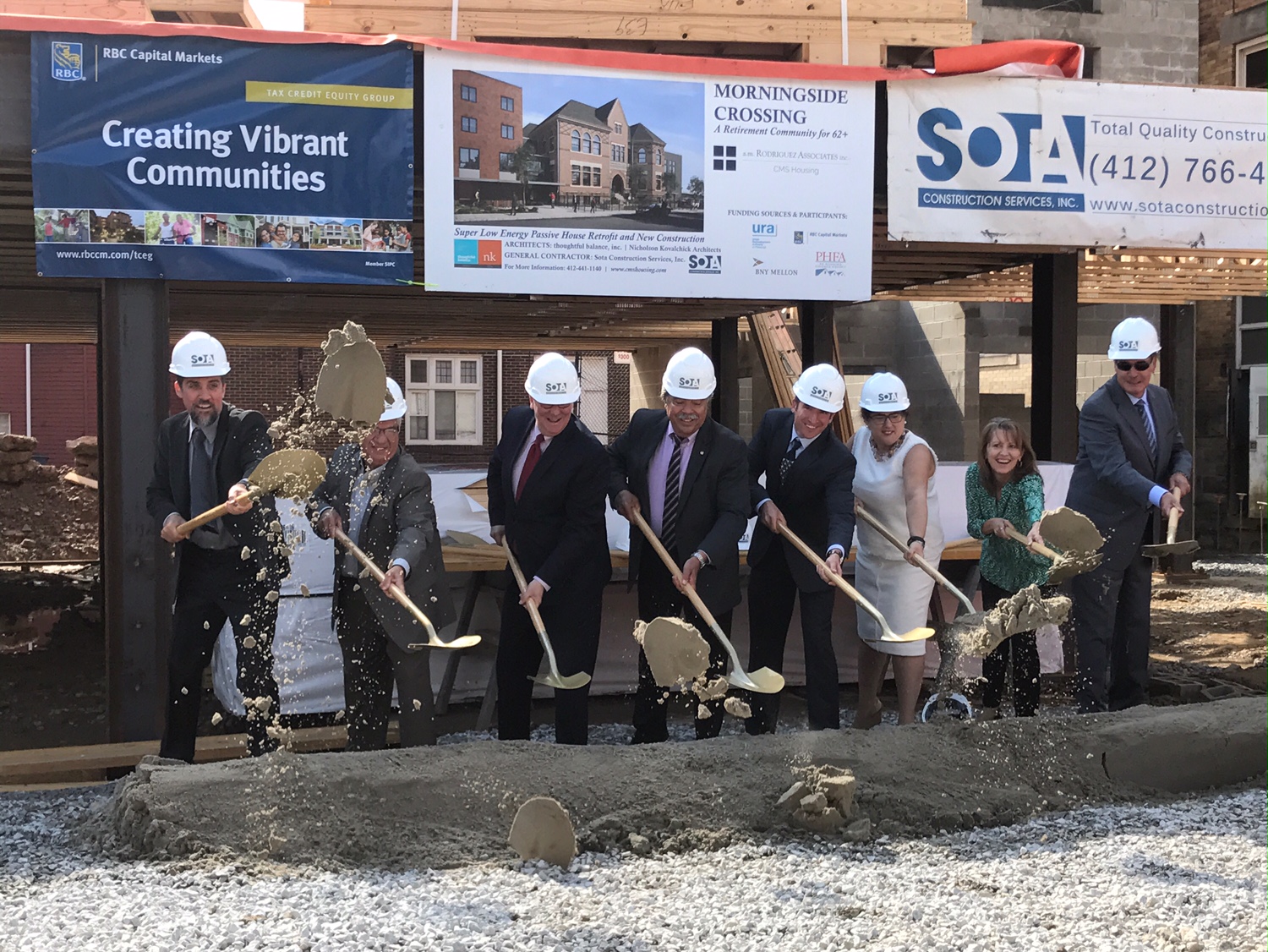 August 23, 2017 12:31 PM
By Diana Nelson Jones / Pittsburgh Post-Gazette
By this time next year, Morningside will have 46 new housing units, 13 in the former Morningside
Public School and 33 in a new building being built on the school's parking lot.
This is good news in a tight housing market, and the neighborhood is eager to see new life in the
school, which closed 11 years ago, said Ben Kelley, president of the Morningside Area Citizens
Council.
Construction began earlier this year at the site, Jancey Street and Greenwood Avenue, but a
ground-breaking ceremony Wednesday brought out about 50 people.
Mayor Bill Peduto thanked former state Sen. Jim Ferlo for his early advocacy of the school's
reuse, saying, "This will be an opportunity for people to retire and stay in the neighborhood and
to get together in the heart" of it.
Mr. Kelley said the neighborhood council "has been working with the developer to make sure our
residents are first in line" to move in, which will free up much-in-demand housing.
The $13.6 million project is adapting a 120-year-old school, adding a new wing and renovating a
newer portion of the school into a community center. A public plaza on the corner will replace the
former gymnasium. Developer a.m. Rodriguez Associates won tax credits from the Pennsylvania
Housing Finance Agency, generating $12.5 million of the cost, said Cindy Picone, vice president of
development for Rodriguez.
It also won a PHFA innovation and design award for community impact, said Laura Nettleton,
principal architect at Thoughtful Balance. She collaborated on this project with Brandon
Nicholson of NK Architects.
Called Morningside Crossing, it is expected to be completed next August. Forty units will have
one bedroom, six will have two and all but seven will be priced for people making between 20 and
60 percent of the area median income, Ms. Picone said.
While walking his dog past the site, Mike Keller, a 35-year resident of the neighborhood, said it
has been hard over the past decade to look at "a cold, dead building, such a huge piece of real
estate, at one time so vibrant.To see anything come into it is good, but affordable housing for
seniors will have such a positive influence and be so helpful to families."
Morningside Crossing is among the largest retrofits of an old building to meet passive house
energy-use standards in the area. Those standards call for what Ms. Nettleton described as "mega
air tightness," with air exchange rates far slower than in a conventionally designed building.
This usually cuts energy costs by 80-85 percent. The windows are triple-paned and insulation is 8
inches thick. A heat-recovery ventilator moves two air flows, fresh in, stale out, constantly
providing trickles of air, unlike HVAC systems that run full bore for a while then shut off.
"In a traditional house, you have a lot of air movement and a lot of different temperatures"
depending on where you are, Mr. Nicholson said. "In a passive house, you never feel a draft," he
said.
Although construction of a residential passive house can cost up to 10 percent more than
conventional building, Morningside Crossing is below the average cost of PHFA tax credit
projects, Mr. Nicholson said.
Kris Osterwood, technical policy director for Passive House Pittsburgh, said about 20 local
architects are certified in passive house design. Unlike Leadership in Energy and Environmental
Design (LEED), which awards points based on a checklist of standards that require compliance
with a variety of sustainable practices, passive house is just about energy savings.
PHFA funding has been "a huge driver for passive house in Pittsburgh," Ms. Osterwood said.
"And that's wonderful because it will build for lower income, for lower operating costs and for
lighter energy burdens."
Diana Nelson Jones: djones@post-gazette.com or412-263-1626.