Buying Here: Helping revitalize Homestead
By Rosa Colucci / Pittsburgh Post-Gazette
Developer Victor Rodriguez wasn't looking for work when he took a walk one day.
"Well, it's funny, We have a retirement residence in Munhall across from the Carnegie Library. I was walking around one day three or four years ago, admiring the beautiful architecture and park. I noticed the vacant lot in front of Propel Charter School. I thought it was a great location, close to the Waterfront. I thought it could be revitalized."
Mr. Rodriguez is president of a.m. Rodriguez Associates, a company his father founded in 1974 to create attractive housing for low- to moderate-income individuals. Since then, the company has grown and its developments now include subsidized high-rises for the elderly and market-rate apartments for seniors such as the Munhall Retirement Residence.
The project he envisioned that day is known as One Homestead, a community revitalization effort in partnership with Allegheny County and Homestead Borough to produce affordable new apartments targeted at working individuals.
"We tried to do market-rate housing, but because of the scattered sites and not being contiguous, it was not allowed," Mr. Rodriguez said. We have a target of 60 percent of the area's median income and below."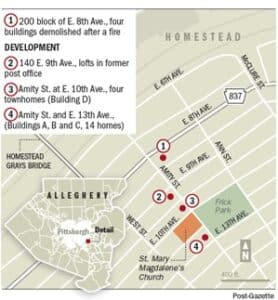 The site, located 6 miles from Downtown, features 18 townhouse units grouped in four buildings along Amity Street between Ninth and Eleventh avenues; a 31-unit apartment building with first-floor commercial space in the 100 block of Eighth Avenue; and three loft apartments, a management office and a community room for residents in a renovated post office on Ninth Avenue at Amity Street.
The townhouses feature a front porch and rear outdoor patio, resilient flooring on the first floor, carpeted bedrooms, fully equipped kitchens and a washer and dryer in every unit. Handicapped-accessible units are available.
Monthly rents range from $615 to $633 for one-bedroom units; $738 to $886 for two bedrooms and $853 to $1,023 for three bedrooms. Tenants' income must not exceed $29,220 for one person, $33,360 for two, $37,560 for three and $41,700 for four. To apply, visit www.cmshousing.com to download an application or call 412-461-1000 (TDD 1-800-545-1833).
Diana Manning, director of property management for CMS Housing, the property management arm of a.m Rodriguez, said during a tour of the construction sites that she felt this project was the future of Homestead.
"They are beautiful units and this project will revitalize the community," she said.
The former St. Mary Magdalene Church on Amity Street is in the middle of the development and on the market for $159,900 (MLS No. OL103653) through Howard Hanna Real Estate Services.
"We wanted to include the parcel in the project but it just was not feasible for us," Ms. Manning said.
Interest has been high, especially among young people who have been priced out of communities such as Lawrenceville and South Side, Mr. Rodriguez said.
"There's a lot of change going on in the borough. Voodoo Brewery is right across the street. There's a different chemistry going on now."
He also noted the proximity of Carnegie Library of Homestead (actually in Munhall) with its athletic club and concerts in the music hall. The borough's steel heritage is reflected in a historic marker outside the former post office. It notes that U.S. Secretary of Labor Frances Perkins held a meeting there in 1933 with aggrieved steelworkers to discuss the New Deal after local authorities banned them from meeting in nearby Frick Park.
"Housing is very reasonably priced," Mr. Rodriguez said. "If people were to buy there now, they would see an increase in value significantly."
Rosa Colucci: 412-263-1634 or rcolucci@post-gazette.com.