Groundbreaking Ceremony of ONE Homestead Townhomes and Apartments
A Steel Valley Revitalization Plan in Cooperation with Allegheny County Department of Economic Development
Homestead, PA… The Groundbreaking Ceremony with County Executive Rich Fitzgerald will be held on July 10, 2014 at 9:30 AM at 122 East 8th Avenue, Homestead, PA 15120.
a.m. RODRIGUEZ ASSOCIATES inc., would like you to join us as we celebrate the groundbreaking of ONE Homestead, a coordinated community revitalization effort with Allegheny County and the Borough of Homestead to produce affordable apartments targeted for working individuals, couples and families.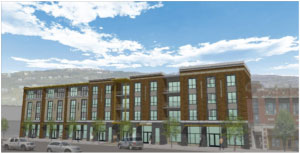 The project will consist of the construction of 18 new townhouse units in 4 separate buildings that consist of ten 3-bedroom and eight 2-bedroom units for families. These townhomes will be located on Amity Street between 9th, 10th and 11th Avenues. Our team also plans on redeveloping the old post office building at the corner of 9th Avenue and Amity Street into 3 units of loft apartments, approximately 1,000 square feet of community space and a rental office. Finally, and perhaps most important, we plan to construct a new 4-story, 30 unit apartment building at the South 100 Block of 8th Avenue, which will greet visitors to Homestead with beautiful architecture designed to enhance the historic context of the 8th Avenue commercial corridor and encourage pedestrian activity. The 8th Avenue building will consist of 15 1-bedroom and 15 2-bedroom units with 6,080 square feet of ground floor commercial space. The total project will be constructed on approximately 67,400 square feet of land and consist of 51 new apartments in 6 buildings with community space, and ground-floor commercial space on 8th Avenue. With the support of Allegheny County and the benefit of low-income housing tax credits, all of the units in this project will be affordable to people whose incomes do not exceed 60% of area median income (AMI). Half of the units have projected rents that will target those whose income is 50% or less of AMI, with 3 units affordable at 20% AMI for mobility impaired residents.
a.m. RODRIGUEZ ASSOCIATES inc. will coordinate the development activities to ensure that the buildings maintain the architectural integrity and amenities admired at all existing properties within the a.m. RODRIGUEZ ASSOCIATES inc., portfolio. The new townhouse structures will have front porches and small outdoor yards in the rear for family spaces. Furthermore, the old post office building will have a community room with kitchenette and computers with access to the internet. The project will also have a Services Coordinator, who will support both the needs of individuals and those of the resident population.
ONE Homestead will be designed and built by an expert team of professionals with extensive experience in creating very attractive sustainable affordable housing. Paul Rodriguez: Architect has worked with a.m. RODRIGUEZ ASSOCIATES on several affordable housing projects in the past, and FRANJO Construction Corp., based in Homestead, is on the forefront of green technology and has experience in projects that meet the standards for Leadership in Energy and Environmental Design (LEED) green design principals.
| | |
| --- | --- |
| Total Development Cost: | $14,719,504 |
| Construction Loan: | $10,250,000 Bank of New York Mellon |
| Soft Loan: | $1,850,000 Allegheny County Dept. of Economic Development |
| Other: | $500,000 Keystone Communities/Penna. Housing Finance Agency$150,000 Steel Valley Enterprise Zone Corporation-Loan |
| Grant: | $500,000 Redevelopment Capital Assistance Program —Commonwealth of PA — Senator Jay Costa |
| Equity: | $11,553,224 RBC Capital Markets – Tax Credit Equity Group |
| Developer Loan: | $166,280 |